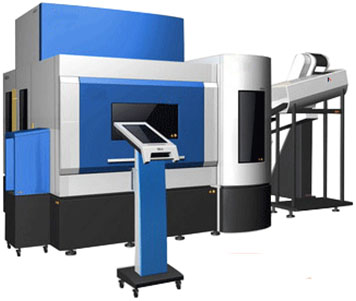 The growing popularity of flip-top caps means that precise cap-to-container alignment is an absolute necessity. Unlike neck orientation features offered on other linear and rotary stretch blow moulding machines, which require the use of special preforms that feature one or two notches on the neck ring, SEPPA offers a solution that works with nearly all the preforms that are available on the market. This neck orientation option can be combined with the preferential heating option, offering the possibility of blowing a wider range of bottle shapes.
PID system for heating zone
An Infrared thermometer detects the temperature of the preforms and automatically adjusts the temperature of the oven to the correct level. It avoids the influence of the temperature difference between day time and night time. Also, the system can have an additional lamp alarm unit, It sounds when it detects any broken or aging lamps.
Air Recovery system
We know most of the production cost comes from two factors, blowing the bottles and reheating the performs . In order to reduce the production cost for the bottle manufactures, SEPPAhas introduced an Air recovery system. This system recovers up to 30% of exhausted High pressure air.
Air cooling system
We have developed an air cooling system for hot fill PET bottles, after high pressure blowing, air cooling is introduced. This reduces the level of PET residual stress, and increases the rate of PET crystallization. After the air cooling process, the PETbottle can stand hot filling without deformation.
Applications
1) Food, cosmetics, personal care products, detergents,

Process Advantages
1) Simple to set up mechanical system
2) Fast orientation in less than 0.8 sec
3) Accurate and flexible positioning

System Advantage
1) Top quality PET bottles
2) Lowest energy and air consumption
3) Air recycling system
4) Reduced air demand
5) Affordable low investment
6) Low production cost
7) Rapid product change over time
8) Minimized wear and tear
9) Lowest downtime – optimized uptime