It is a mechanical gravity filling machine, for PET/glass bottles, designed for cold and hot filling of non-carbonated products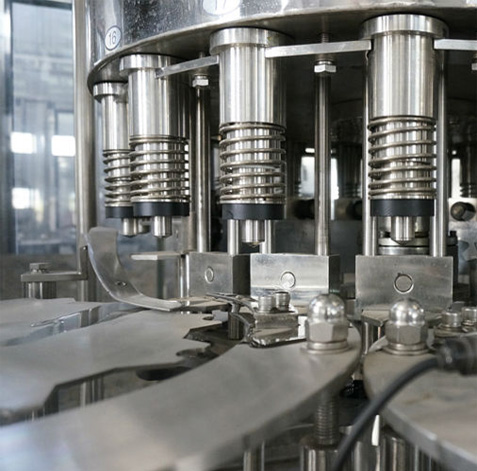 MODELS:
1) EVATS 1000 GT for cold filled non-carbonated water/beverage, clear juices, spirit and wine
2) EVATS 1000 GT HF for HOT FILL (up to 95 °C) and more generally for all non-carbonated beverages that require filling with recirculation
OUTPUT:
1) Fillers with from 10 to 140 valves
2)from 1200 to 50,000 b/hour on 90 ml to 2 litres with still water, spirits wine, non carbonated beverage
3)from 1200 to 36,000 b/hour on 90 ml to 2 litres with fruit juice
KEY FEATURES
Central tank, with product feeding form the bottom of the rotating manifold.
Entirely stainless steel (grade 304/316 /316L) draining base.
Reliable, simple and easily sanitized valve.
Reduced changeover down-times.
"No bottle no fill",, no electronics in the machine.
PET bottle transfer - neck-handling - with no need for monoblock height adjustment.
Possibility of installing a level control system.
User friendly touch screen HMI, with menu-based interface
TRI BLOCK configuration available, for an integrated rinsing- filling-capping solution.
Controlled contamination cabin, micro isolator and cap sterilizing unit available in option in order to enhance hygienic standards.

This is a modular project with the same features and advantages for both configurations, with the only difference between the GT and GT HF configurations is a simple- hot-fill kit, including

a pneumatic valve within the filling valves for product recirculation,
a rotating manifold for product recirculation,
An external tank for recovery of the recycled product and pumping back to the pasteurizer.
ADVANTAGES
Centralized level adjustment, with only one intervention point
Universal product deflection without deflector (swirl device).
No dynamic gaskets in contact with the product: the shutter is sealed by a simple membrane, protecting the movement form contamination.
Simple to operate.
Evacuation to the outside of air returning from the bottles to prevent possible contamination.
Automatically engaged dummy bottles as option..
Valves made entirely of AISI 316 stainless steel.
Quick changeover for packages with different diameters.

Version HR

Possibility of managing pulp up to 3 mm in diameter and 10 mm in length.
Constant and controlled recirculation in bottle, regardless of the formats handled